ASIA
Malaysia
SMC Automation (Malaysia) Sdn. Bhd.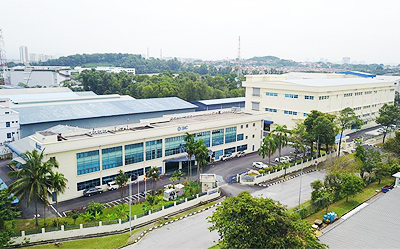 SMC Automation (Malaysia) Sdn. Bhd.
Lot 36, Jalan Delima 1/1, Subang Hi-Tech Industrial Park, 47500 Subang Jaya, Selangor, Malaysia
Phone: +60-(03) 56350590
Fax: +60-(03) 56350601
e-mail: sales@smcmy.com.my
URL https://www.smcworld.com/en-my/
Number of employees
Approx. 150
Director/
General Manager
Edwin Haw
Head office ⁄
Factory building
Land area:14,852.20m2
ISO certification
ISO 9001
SMC Automation (Malaysia) Sdn. Bhd. began operations in 1978. The Headquarters is located in Malaysia's largest industrial park, HICOM Industrial Estate, in the city of Shah Alam, Selangor. SMC Malaysia established 4 sales branches in Malaysia and makes efforts to provide better service to customers.
The Headquarters in a land area of about 14,852 m2 assembles knockdown cylinders and has a warehouse stocked with about 30,000 items. The Headquarters is connected with sales offices online to allow inventory and order status to be checked in real-time.
In addition to sales efforts, SMC Malaysia places emphasis on the education of various pneumatic technologies in an effort to strengthen customer relationships.