Documents / Download » Maintenance Parts List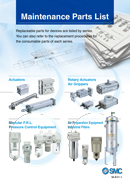 You can check the parts, such as actuator seal kits or filter elements that can be
replaced during maintenance work.
For models other those put on this site, refer to the Replacement Parts List
stated on the structural drawing page of relevant model catalog.


PDF
Digital Catalogs
System Requirements for Digital Catalog
|

Search for Seal Kits

The seal kit part number can be checked by selecting the series and rod size.
Standard air cylinders
CJP2 / CM2 / CG1 / CG3 / MB / MB1 / CA2 / CS1 / CS2
Environment Resistant Cylinders
Rodless cylinders
Clamp Cylinders
ISO Cylinders