ASIA
India
SMC Corporation (India) Pvt. Ltd.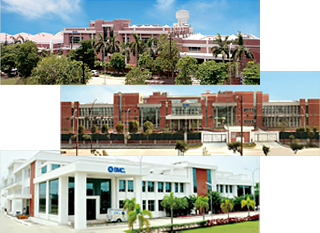 SMC Corporation (India) Pvt. Ltd.
A-4, Sector-88, Noida-201 305 India
Phone: +91-0120-4780222, +91-2449222
Fax: +91-0120-2558933, +91-2563111
e-mail: info@smcindia.in
URL http://www.smcin.com
Number of employees
500
Managing Director
R. K. Malhotra
Sales Manager
P. K. Sood
Head office /
Factory building
Land area:87,000m2
Floor space: 39,000m2
ISO certification
ISO 9001-2008
SMC Corporation (India) Pvt. Ltd. was established in 1995 and has become recognized in Indian industrial circles through its various activities related to pneumatic technology. The Headquarters is currently located in the city of Noida in the suburbs of the capital city of New Delhi, SMC India is spread over 87,000 m2 compound area which includes three state-of-art manufacturing facilities and distribution warehouse. SMC India has built up a system to meet the increasing needs in the Indian industry. Along with the Headquarters, its extensive nationwide sales network covering 47 major cities enables it to provide a wide range of services to customers.
In order to help customers automate and improve facilities, SMC India believes its mission is to provide the best products and technical services to customers.