ASIA
China <Guangzhou Area>
SMC Automation (Guangzhou) Ltd.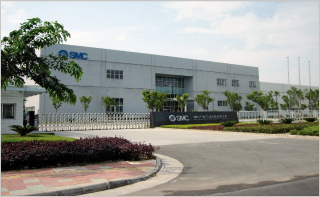 SMC Automation (Guangzhou) Ltd.
2, Dongming Road 3, Science Park Guangzhou Hi-Tech Industrial Development Zone, Guangzhou, P.R.China
Phone: +86-(020) 28397668
Fax: +86-(020) 28397669
e-mail: smcgz@smcgz.com.cn
URL http://www.smcgz.com.cn
| | |
| --- | --- |
| Managing Director | Sandy CY Ng |
SMC Guangzhou was established in the year of 2006, which then allowed them to set their new office in the scientific district of Guangzhou in 2007.
The Guangzhou head office comprises of a sales department as well as a manufacturing & distribution department. Their adjoining factory deals with simple special order items and also with the quick delivery of standardized cylinders.
They carry a wide range of products in their warehouse and are always able to respond to the quick delivery.
Having established extensive sales network comprising of 19 sales branches and 45 distributors, they are currently promoting their marketing and sales activities. Additionally they also provide technical services such as technical training sessions and open-air measurements.
In response to their customer needs, they are also able to provide concurrent services of the presentation of their new products, showroom tours, factory tours and training workshops.
南方地区 24拠点
Southern District 24 Sales offices