Thermo-Chillers (Circulating Fluid Temperature Controllers) High performance/Type & Inverter Type
EU F-Gas Regulation-compliant Refrigerated Thermo-chiller HRZ-F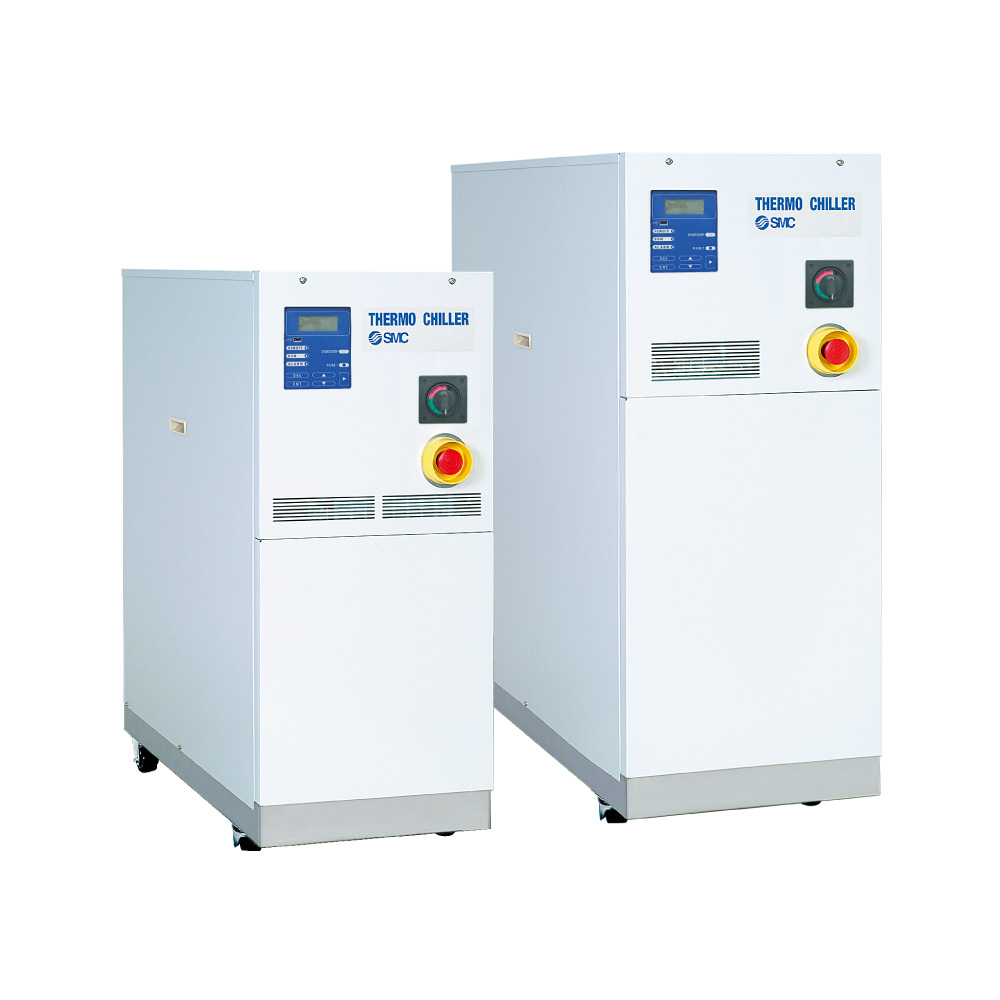 Features
・More effective energy-saving is achieved through use of a DC inverter compressor and an inverter pump.
・Energy saving
 The inverter controls the number of motor rotations of the compressor and pump according to the load from the user's application.
 Power consumption: Max. 65% reduction
 Facility water: Max. 67% reduction
・High performance
 Temperature stability: ±0.1°C (When a load is stable)
 Cooling time: Max. 46% reduction (SMC comparison)
・Refrigerant: R410A (HFC)/R448A (HFC/HFO)
EU F-Gas Regulation-compliant Refrigerated Thermo-chiller HRZ-F

Manual
Series
Set temperature
range
Cooling
capacity
Temperature
stability
Cooling
method
Circulating fluid
HRZ-F
-20 to 40℃
10 to 60℃
-20 to 90℃
2 kW, 4 kW, 8 kW, 10 kW
±0.1℃
Water-cooled
refrigeration
Fluorinated fluids
Ethylene glycol aqueous solution
Tap water/Deionized water
Water-cooled Thermo-chiller/High-performance Type HRW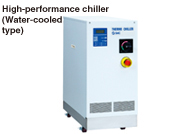 ・Direct heat exchanger for in-plant circulating fluid
・Can control the temperature over a wide range since a compressor is not required.
・Suitable for semiconductor processing equipment with a wide variety of features, such as high-temperature stability, a wide temperature range, failure diagnosis, external communication, etc.
・Compliant with UL Standards, SEMI Standards, CE-marking
・It is possible to select the inverter type.
Water-cooled Thermo-chiller/High-performance Type HRW

Manual

Water-cooled Thermo-chiller/High-performance Type HRW

DoC
Series
Set temperature
range
Cooling
capacity
Temperature
stability
Cooling
method
Circulating fluid
HRW
20 to 90℃
2 kW, 8 kW, 15 kW, 30 kW
±0.3℃
Water-cooled type
(Without compressor)
Fluorinated, Tap water, Deionized water,
Ethylene glycol aqueous solution (60%)