Electronic Flow Switches/Sensors
2-Color Display Digital Flow Switch PF2M7(-L)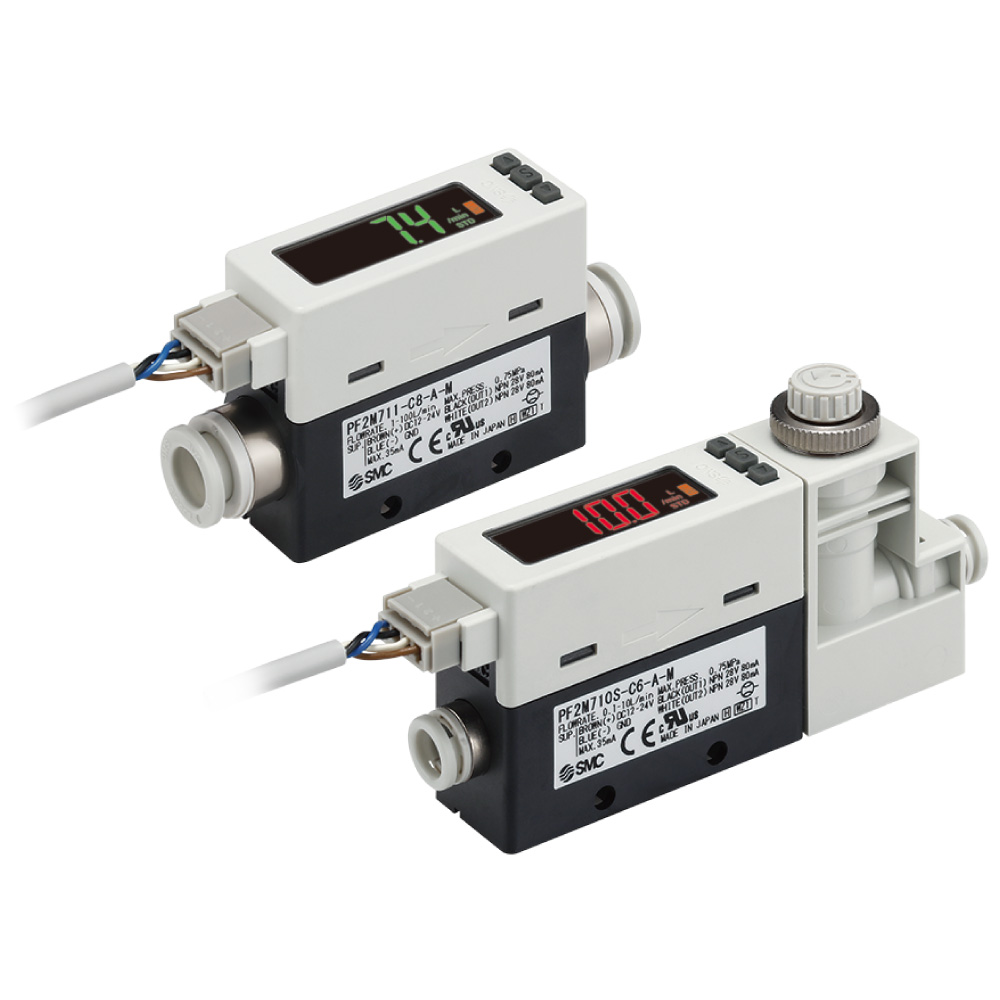 ・Dry air, N2, Ar, CO2
・A wide range of flow measurement is possible with 1 product.
 Flow ratio: 100:1, Smallest settable increment: 0.01 L/min
・Improved resistance to moisture and foreign matter
・Compact, Lightweight
 Weight: 27.3% lighter (55 g → 40 g)
・Low current consumption: 35 mA or less
・Grease-free
・IO-Link compatible

 ▶IO-Link Master
2D/3D CAD

The new SMC CAD SYSTEM, CADENAS, allows you to output 2D/3D CAD data with full part numbers in various data formats. Responses to part number selection has been greatly improved with the newly developed system.

Click here for 2D/3D CAD

2-Color Display Digital Flow Switch PF2M7(-L)

Manual

2-Color Display Digital Flow Switch PF2M7(-L)

DoC
Series
Rated flow range (L/min)
PF2M7
0.01 to 1 (0.01 to 0.5)
0.02 to 2 (0.02 to 1)
0.05 to 5 (0.05 to 2.5)
0.1 to 10 (0.1 to 5)
0.3 to 25 (0.3 to 12.5)
0.5 to 50 (0.5 to 25)
1 to 100 (1 to 50)
2 to 200 (2 to 100)
( ): For CO2
Features
A wide range of flow measurement is possible with 1 product.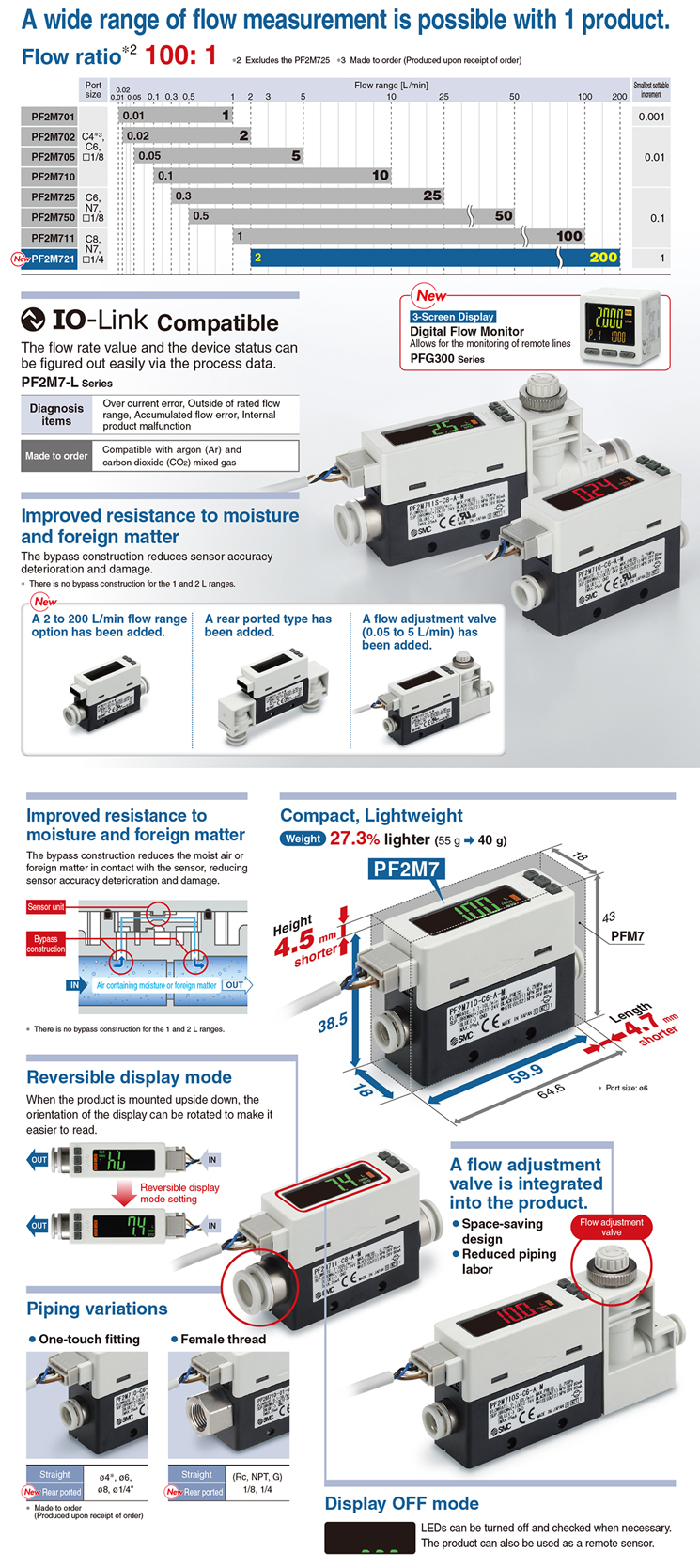 Mounting variations

The digital display allows for the visualization of the flow rate.

Select a model according to the fluid to be used.
Recommended pneumatic circuit examples

Analog free span function

Delay time setting

Can be set between 0 and 60 s


The delay time can be set according to the application.




Grease-free




Selectable analog output function

1 to 5 V or 0 to 10 V can be selected.




Low current consumption: 35 mA* or less

* PFM7: 55 mA or less




Power supply voltage: 12 to 24 V

* For the IO-Link device: 18 to 30 V

Functions
Select a digital flow switch to increase energy savings!

Applications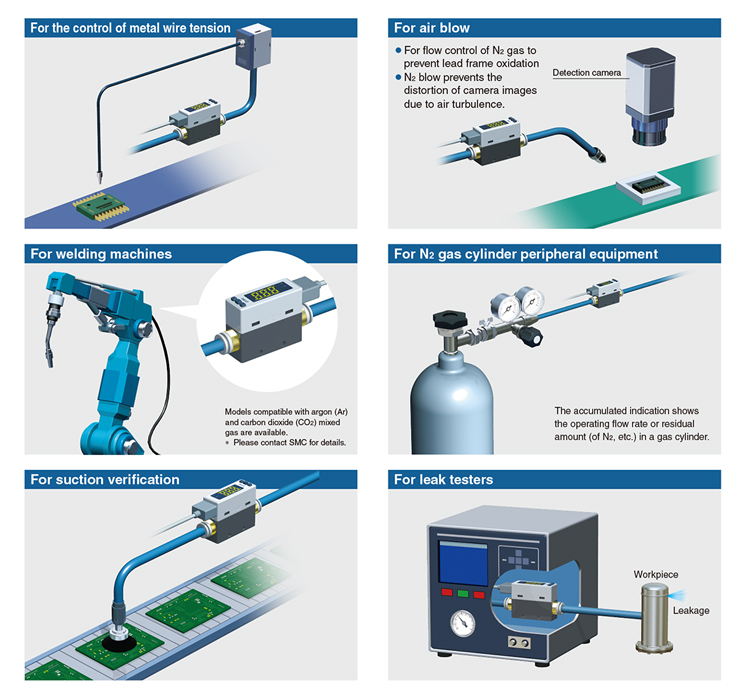 IO-Link Compatible PF2M7□□-□-L□-□□□