Alphabet Index
【A】
●

A-phase (Signal) Output, B-phase (Signal) Output

Whether the axis rotation is clockwise or counterclockwise is judged with difference of A and B phases by outputting incremental encoder as shown below. The A-phase precedes the B-phase in case of a clockwise rotation (CW).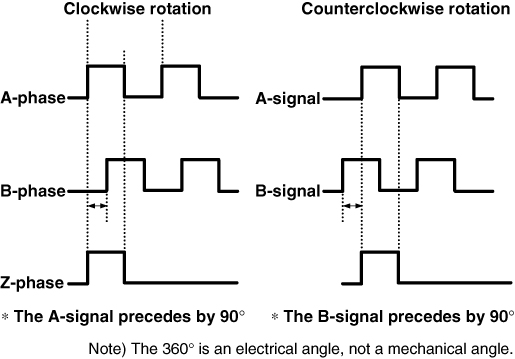 ---
●

Absolute Encoder

An encoder with a function to detect the absolute position so that it does not have to return to origin whenever it is powered on.
---
●

Absolute Position

A position against the reference point (origin). The antonym is "incremental position."
---
●

Absolute Positioning Repeatability

Difference between the coordinate value and the actual value when positioning at any point indicated by the coordinate value.
---
●

AC Servo Motor

A servo motor rotated by an alternating current in the fixed winding. It does not have a brush and a commutator which are weaknesses of DC servo motors.
---
●

Address

An absolute position given in an absolute coordinate system.
---
●

Addressing

A method of transferring indications to actuators. One is absolute addressing (absolute coordinate system), the other is incremental addressing (relative coordinate system, indicating the distance of transfer).
---
●

Alarm Signal

An signal sent when something wrong (trouble) has happened in the device.
---
●

Automatic Operation

An operation activated by a start signal from an external device (PLC etc.)
---